Woody Sez: Musicals against the cuts!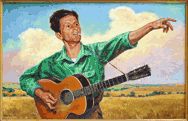 A rather belated endorsement of Woody Sez, the musical currently half way through its 3 month run at the Arts Theatre in London. I went to see it back in January, and have been recommending it since to everyone who'll listen.
It's a biography of radical US folk legend Woody Guthrie, told mostly through snippets of his music. Four performers cover all the roles, dispensing with such frippery as props, costume or set changes, and it works kind of as an accompanied monologue, rattling straight through a half century of American history like a west-bound boxcar.
Told from Guthrie's perspective, the show records his travels through an unequal society, stretched to breaking point by the great depression, and demonstrates how witnessing the lives of people caught on the sharp edge of a great crisis radicalised him and his art.
The performances are fantastic – with dozens of instruments shared round between the cast, from banjos to spoons, with everyone seemingly a virtuoso at them all – and the cast's enthusiasm for the material is utterly infectious – a Guthrie CD has now replaced the nursery rhymes CD in our car stereo – with "This Land is Your Land" the new back seat favourite.
With protest the new black, this show deserves a packed house every night. For those worried about how this current crisis is going to hit the UK's most vulnerable, the show is an affirmation and an inspiration. It's only on until 2 April, so get in if you can.